CCW Winter Executive Report: The Future of the Contact Center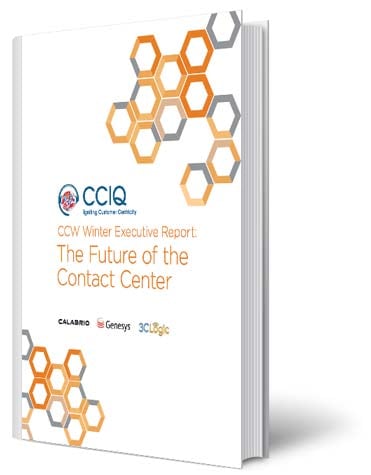 Transformation is the name of the game when it comes to contact center strategy. From the types of interactions it handles, to the channels in which it engages customers, to the way it measures performance, the contact center is constantly transforming.
As businesses develop their contact center strategies for 2017 and beyond, they must successfully respond to ongoing trends and shifts in the marketplace. They, moreover, must put their contact center in position to swiftly adapt to the anticipated – and unanticipated – change of tomorrow.
Enter the CCW Winter Executive Report: The Future of the Contact Center guided by CCIQ's market research and enhanced by expert commentary. The Report examins existing trends, reveals key contact center themes and objectives, identifies the most pressing contact center challenges, and highlights the top strategic and technological solutions for achieving success now and in the future