Key customer engagement trends have emerged and we've got the inside scoop.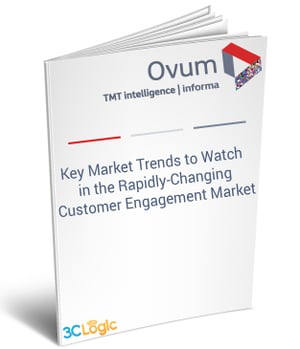 The customer engagement marketplace is evolving rapidly with multiple industry trends developing simultaneously, creating the perfect storm for industry change. Companies must move with the market or be left behind.
Download the report commissioned by 3CLogic from the analysts at Ovum to discover expert insights and findings, including:
The voice channel is not going away:
To effectively handle complex customer issues, human and virtual agent must co-exist, with the emphasis on quality of human conversation when an issue is escalated to ensure proper resolution.
Step your way to the cloud: The move to the cloud will be in stages as the market works its way through a hybrid premises-based/cloud era as preferred alternative to rip and replace.
CRM and voice environments merge for seamless customer experience: The convergence of disparate silos of customer engagement applications gain popularity as "best of breed" proves an obstacle to a unified experience.
Use the information in this report to help you make the best strategic decisions for the success of your customers and your enterprise.
Download this ground-breaking white paper today!