Key Trends in the Rapidly-Changing Customer Engagement Market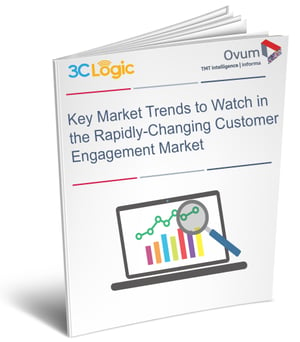 The customer engagement marketplace is evolving rapidly with multiple industry trends developing simultaneously, creating the perfect storm for industry change. Enterprises and vendors must take actions to move with the market or be left behind in its wake.
Download this informative market outlook and trends white paper from the analysts at Ovum, the world's leading data, research and consulting organization, to discover expert observations and insights on topics you should know about, including:
The voice channel is not disappearing:

Multi- and omnichannel customer care must co-exist with the persevering voice channel, adding confusion as to which channels will dominate and which will not survive

.
Core communication tools used to serve customers have shifted: The move to the cloud will be in stages as the market works its way through a hybrid premises-based/cloud era.

Applications and environments will merge over time: The convergence of disparate silos of customer engagement applications, including the ACD, CRM, IVR, and others, are on the not-so-distant horizon.
To be effective in this constantly-evolving market space, it's mission critical to stay current and abreast of key shifts and trends that are necessary to making pivotal strategic decisions for the success of the enterprise. Take direction from the best and ensure you're on the right side of change.
Download this ground-breaking white paper today!